Exhibition : "Les travaux de Cordouan"
The exhibition "Les travaux de Cordouan" shows the backstage of this titanic project. It also highlights the work of the men and women who are committed to passing on this exceptional heritage to future generations.
To be discovered from April 2.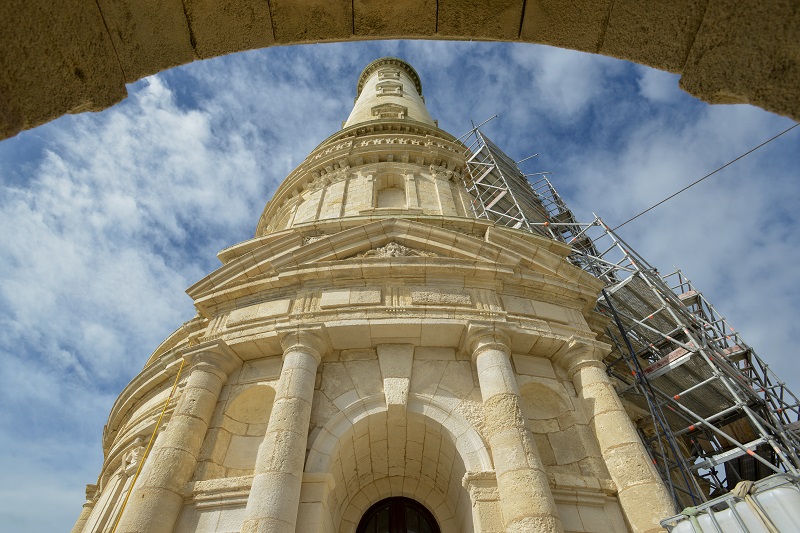 A non-standard site, a non-standard work site
An emblematic monument of the Gironde estuary, the Cordouan lighthouse will reopen its doors this Saturday, April 2, 2022 after the completion of a major restoration campaign.
For more than ten years, the local authorities (Nouvelle-Aquitaine Region, Charente-Maritime and Gironde departments) have been working alongside the State on an ambitious program to renovate and promote the Cordouan lighthouse, to promote the influence and conservation of this exceptional asset.
Over the course of several winters, workers from all trades (stonemasons, masons, rope access technicians, etc.) have taken turns to contribute their know-how to restore Cordouan to its former glory.
The exhibition "Les travaux de Cordouan" is part of the theme of the 2022 season. It focuses on the craftsmen and craftswomen who combine their know-how to preserve this prestigious monument. Also, an exceptional weekend on the occasion of the European Crafts Days and thematic visits on the theme of the work will contribute to this highlighting.